Certified Tea SpecialistŠ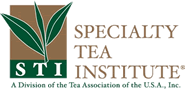 The Specialty Tea Institute (STI) is the educational division of the Tea Association of the U.S.A., Inc. and the leader in the education of tea professionals. STI has educated more than 1,000 tea and related industry professionals and more than 125 STI –Certified Tea Specialists, all with the credentialed backing of the U.S. Tea Association.
Our Certified Training Programs, Levels I, II, III and IV, are held in conjunction with various food and beverage conferences throughout the country. STI also offers select area locations with curriculum presented by approved STI Tea Mentors.
On the West Coast and in the Pacific Northwest, Jennifer Petersen is an STI Tea Mentor with classes in Portland, Oregon and Seattle, Washington. On-site locations in other cities are available upon request.

STI Certified Tea Specialist™

Need tea certification? You're a professional in tea, coffee, wine, culinary or health and wellness? You need authentic tea education that fits your background and interests?
Where do you go and who do you trust?
As an STI Tea Mentor, Jennifer offers STI classes that help you learn more about tea and receive your certification. Certified Tea Specialist™ is the designation bestowed by the Tea Association of the U.S.A. As a matter of fact, it is the only tea education program that is endorsed by the Tea Association and its educational unit, the Specialty Tea Institute.
Whether you are an beverage professional or a tea enthusiast, join the pace-setters - the gold standard - for tea education.
Learn more about STI's Tea Education Classes™
The program begins with two days of interactive education and evaluations of tea. We taste and evaluate literally dozens of teas. It's a fun way to learn about the intracacies of the tea leaf! For a complete description of the curriculum, click here.